| | |
| --- | --- |
| Type | Sword |
| Used by | Player |
| Ammunition | None |
| Attack type | Melee |
| | |
| --- | --- |
| Default damage | TBA |
| One or two handed? | One |
A Pulse Sword is a purchased weapon. It requires no ammunition.
A Pulse Sword is a sword, suited for offence. The sword is swung at the enemy which causes around 35 damage.
Application
Edit
A low damage, high speed, medium blocking makes this a weapon suited for combos. You will get nowhere just doing 1 or 2 hits at a time.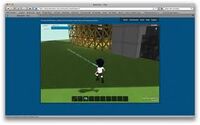 Ad blocker interference detected!
Wikia is a free-to-use site that makes money from advertising. We have a modified experience for viewers using ad blockers

Wikia is not accessible if you've made further modifications. Remove the custom ad blocker rule(s) and the page will load as expected.